Move to Tennessee from California January 28, 2021

Move to Tennessee from California

Looking for a new home or land in Tennessee, where taxes are lower; where you can find patriotism in your neighbors, and a where you can be a part of a community where biblical values of faith and family are celebrated? Choosing if you want a vibrant city like Nashville or a quiet life with more space is available in Tennessee, but the best part for Californians is lower taxes, lower home prices, and lower cost of living no matter which you choose.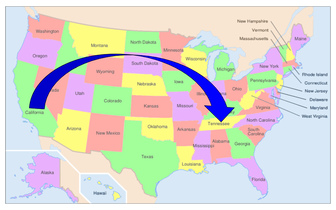 Jason and Allison, aka Team Fraker, are a married Real Estate team and are excited to help you find your home in Tennessee. They have both grown up in Middle TN and now reside in Murfreesboro (30 minutes from Nashville, Brentwood, Franklin and an hour from Chattanooga) and would love to schedule a virtual tour of homes or speak with you on the phone about the buying process and market activity. Let Team Fraker help you make this dream come true!

"We value our community because patriotism and biblical values are celebrated here. Specifically living in Murfreesboro TN we feel this is the best place on earth to land. Bring the kids, call the dog, and schedule the moving truck! Because after you visit here you will also want to call Middle TN home.

Search Homes in Middle TN right here on our website. Anything listed on the MLS will be on this site. Log in and save homes as you find things you like or schedule a showing when you find something you want to learn more about. Team Fraker has experience with virtual showings and have investors in California who are buying homes from FaceTime virtual tours.
Visiting Tennessee
Before deciding on the move to Tennessee from California, we hope you can schedule a trip soon and really get a good feel of the state. Regardless, if your preference is enjoying the Grand Ole' Opry or a trail in the Mountains of Pigeon Forge, you will find a warm welcome. Check out the Trip Advisor on things to do when you visit: Trip Advisor TN
Tennessee Perks
Tennessee has NO income tax on salaries, bonuses or income from work. Taxes will be lower in TN than in California. A few differences would include the Hall Income Tax... More on this from SmartAssett.com "The state does levy the "Hall Income Tax," though, named after the Tennessee state senator who sponsored the legislation in 1929. For tax year 2020, it is a 1% tax that only applies to earnings from interest and investment dividends. Beginning with tax year 2021, the Hall Income Tax is repealed.
A taxpayer's first $1,250 in interest or dividend income is exempt from the tax ($2,500 for joint filers), so only people earning more than that must pay the aforementioned rate. Furthermore, people over the age of 65 earning less than $37,000 annually are fully exempt. So are the blind and those above the age of 100." Visit their page for more information on this and TN Sales tax.
What does crime like in Tennessee? Is it safer than California?
This really depends on the city and sometimes the area within the city you choose. However, we can supply you with links to do your own crime reports while shopping around!
Is there a better time to move to Tennessee from California?
Great question! The humidity in Tennessee might take a little adjustment for Californians so moving in September might not be the most enjoyable (unless of course you have movers doing the work for you!). Real Estate in Middle Tennessee has not taken a break for a "slower season" in recent months. Check out the latest Red Realty Report, keeping you up to date on the Real Estate Market in our area.
What Middle TN cities are most popular/attractive for Californians?
Oh my, this is so hard... our heart is in Murfreesboro where we enjoy parks and greenways, historical sites including the famous Civil War Battlefield. Murfreesboro TN is a short distance to so many fun places. School choices are great with Central Magnet being ranked 13th in the Nation and if looking for a private Christian option, Providence Christian Academy is a stellar. However, Franklin is recognized nationally for outstanding schools as well. Other notable cities include Mount Juliet, Brentwood and Germantown.
Interested in learning more about Team Fraker?
Making Dreams Come True... One Home at a Time!
Jason & Allison Fraker are a husband/wife team. Both are full time Realtors and live right here in Middle TN on a mini farm. Jason and Allison, or better known as Team Fraker, have two children, two dogs, three horses and bees on occasion (they do tend to leave!). They are very connected in the Rutherford County community, faithfully attend and serve World Outreach Church, support several non-profits (Salvation Army, Feed America First, Stepping Stones, One Goal, etc) love eating and shopping local, and are excited to meet you!
"Real Estate is a way of getting to be a part of your story. We love getting to know new people and helping our friends and family open the next chapter of life. The stories we get to share, hopes fulfilled, dreams becoming a reality, and prayers answered are the BEST part!" ~ Jason & Allison Fraker
Check out their Facebook wall for fun stories of families who Team Fraker have served recently. Also, read up on consistent market updates to help you understand how the market is changing. And of course, some humor from time to time!
Because they are a team, if one is out typically the other is working. Why does this matter to you? Because Real Estate doesn't just happen between the hours of 9-5 and having agents who are available most anytime is necessary to keep the ball rolling.
A little about Jason
Jason spent 20+ years in telecommunications. His last position in that field was as a Project Manager. Jason is exceptional with his attention to detail, organizational skills and ability to negotiate. Because real estate contracts require deadlines and agreements, he is a great help to ensure these are not lost in the mix. Jason's experience with people has proven to be a great tool in the Real Estate negotiations... his steady calm personality keeps things moving and tends to defuse many situations. For Jason, every client turns into a friend by the time they sit together at the closing table. His consistency with doing what is right, telling the truth (even when it's hard to hear), and communicating along the process brings about a trust and friendship.
A little about Allison
Allison spent the past 15+ years prior to Real Estate at World Outreach Church. During her time there she was involved with the Multimedia Team (camera, sound, and stage teams), managed the Social Media channels, Small Group Curriculum development, and Curriculum Development. With this experience, Allison is hands on with marketing homes, communicating with photographers and videographers and ensuring the home is in it's best light for selling. Allison also has a background in Digital Marketing and uses that experience to ensure your home for sale is marketed to Buyers accurately.
Give Team Fraker a call.
We would love to help you move to Tennessee from California with ease.
Team Fraker, Red Realty REALTORS®
Mobile Phone: 615-533-5622 (allison) 615-456-8016 (jason)
Email Address: teamfraker@redrealty.com
Address: 1574 Medical Center Parkway, Suite 202 Murfreesboro, TN 37129